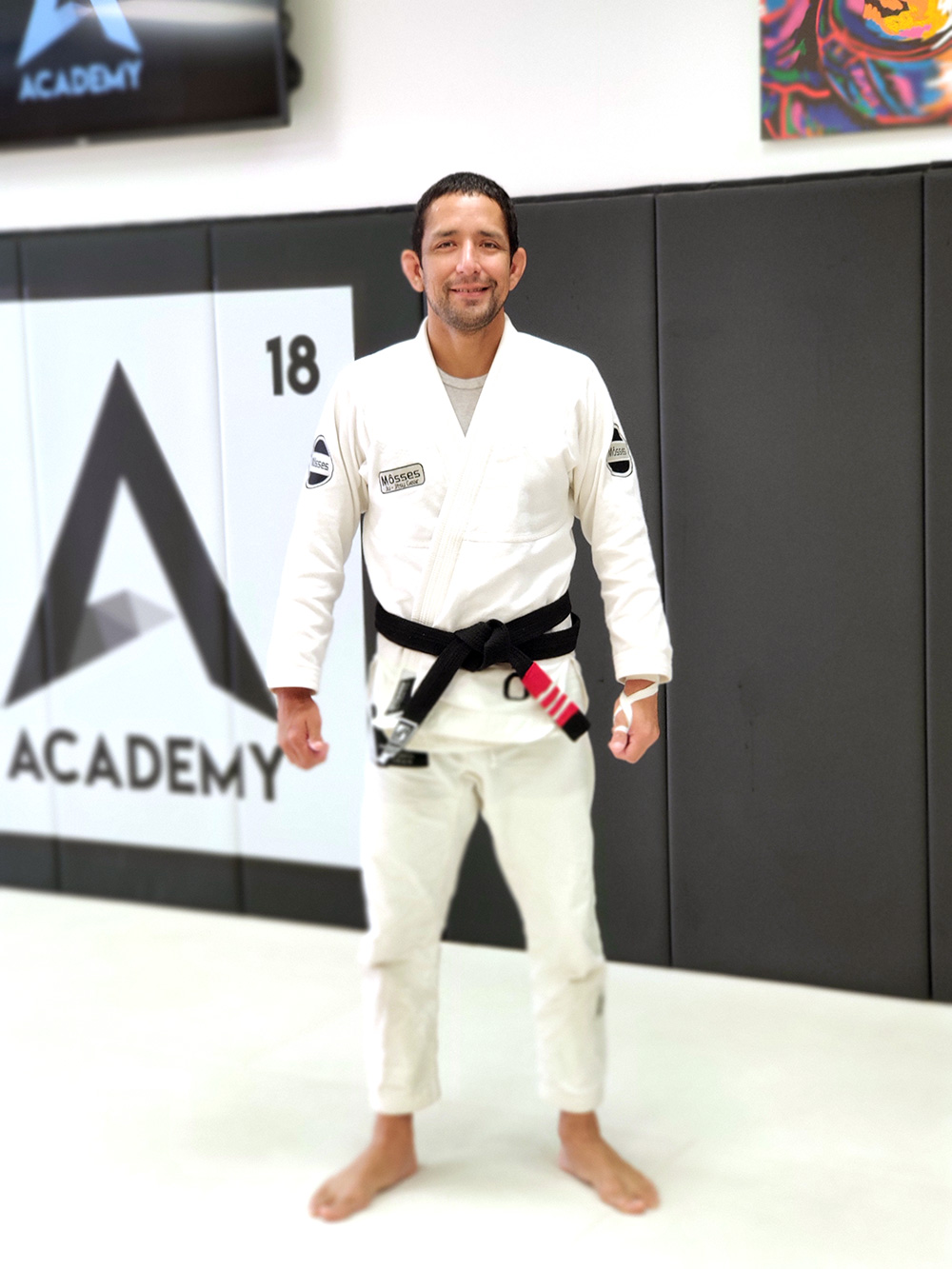 Gustavo Carpio
Country: Perú
Belt: Third Degree Black Belt
Lineage: Carlos Gracie Sr.   >   Reylson Gracie   >   Paulo Mauricio Strauch   >   Luiz Sergio Correa   >   Gustavo Carpio
I started jiu-jitsu in October of 1998 in Lima, Peru under Professor Jorge Balarin, a blue belt under Eduardo Manno and then promoted to purple belt under Renzo Gracie. My introduction to the basics of jiu-jitsu was under Professor Balarin who I trained with until 2003. In the year of 2004, I met professor Sergio Correa "Marra" and he became the professor who awarded me the purple, brown and black belts. From 2004 until 2009, I taught and trained at Sniper Gym in Lima, Peru. In 2006, I decided to start competing internationally, obtaining gold at the American Nationals as a purple belt, bronze at the IBJJF Panams as purple belt and brown belt and bronze at the IBJJF Worlds as a brown belt in 2008. In the year of 2009 after finishing my degree in Psychology, I decided to migrate to the US to start teaching and competing. Currently, I train under Master Leo Vieira and represent the Checkmat team, competing in the black belt light-feather master and adult division and I am also the Head Instructor at Academy Jiu-Jitsu and Martial Arts.
Instagram: https://www.instagram.com/gustavobjj13/
Facebook: www.facebook.com/gustavocarpiobjj
YouTube: https://www.youtube.com/gustavocarpiobjj
Professor Gustavo is available for private classes. Please contact him directly.
Black Belt Accomplishments
2010
Gold – Houston Open IBJJF
Gold – Texas State Championship Fight to Win
Gold – Las Vegas Open IBJJF
Bronze – American National IBJJF
Bronze – NY Open IBJJF
2011
Gold – Dallas Open IBJJF
Silver – Abu Dhabi Pro Trials San Antonio
Silver – Houston Open IBJJF
Silver – Phoenix Open IBJJF division / Silver Open Division
Bronze – American National IBJJF
2012
Gold – Texas State Championship Fight to Win
Gold – Naga Houston
Gold – Grapplers Quest Houston
Gold – Miami Open
Silver – Long Beach Open
Bronze – Dallas Open IBJJF
2013
Gold – Dallas Open
Silver – Long Beach Open
Silver – Abu Dhabi Trials New York
Bronze – Abu Dhabi trials San Antonio
Bronze – Houston Open
Bronze – Panams
Bronze – New York Ope
2014
Gold – Boston Open
Gold – Five Grappling Texas
Silver – Las Vegas Open
Silver – Seattle Open
2015
Silver – American Nationals (Master 1)
Gold – Dallas Open (Master 1)
Gold – Seattle Open (Master 1)
Silver – Irvine Open
2016
Gold – SAN Jose Open (Master 1)
Gold – Las Vegas Open (Master 1)
Gold – Los Angeles Open (Master 1)
Silver – American Nationals (Master 1)
2017
Gold – San Jose Open (Master 1)
Silver – Mexico City Open
Gold – Dallas Open
2018
Gold – LA Open (Master 1)
Gold – Five Grappling
Gold – Panams (Master 1)
Gold – San Diego Open (Master 1)
Gold – LA Pro (Master 1)
2019
Silver – American National (Master 2)
Gold – Abu Dhabi Grand Slam (Master 2)
Gold – Salt Lake City Open (Master 1)
Gold – SJJIF World Championship (Master 1)
Silver – San Antonio Open (Adult)